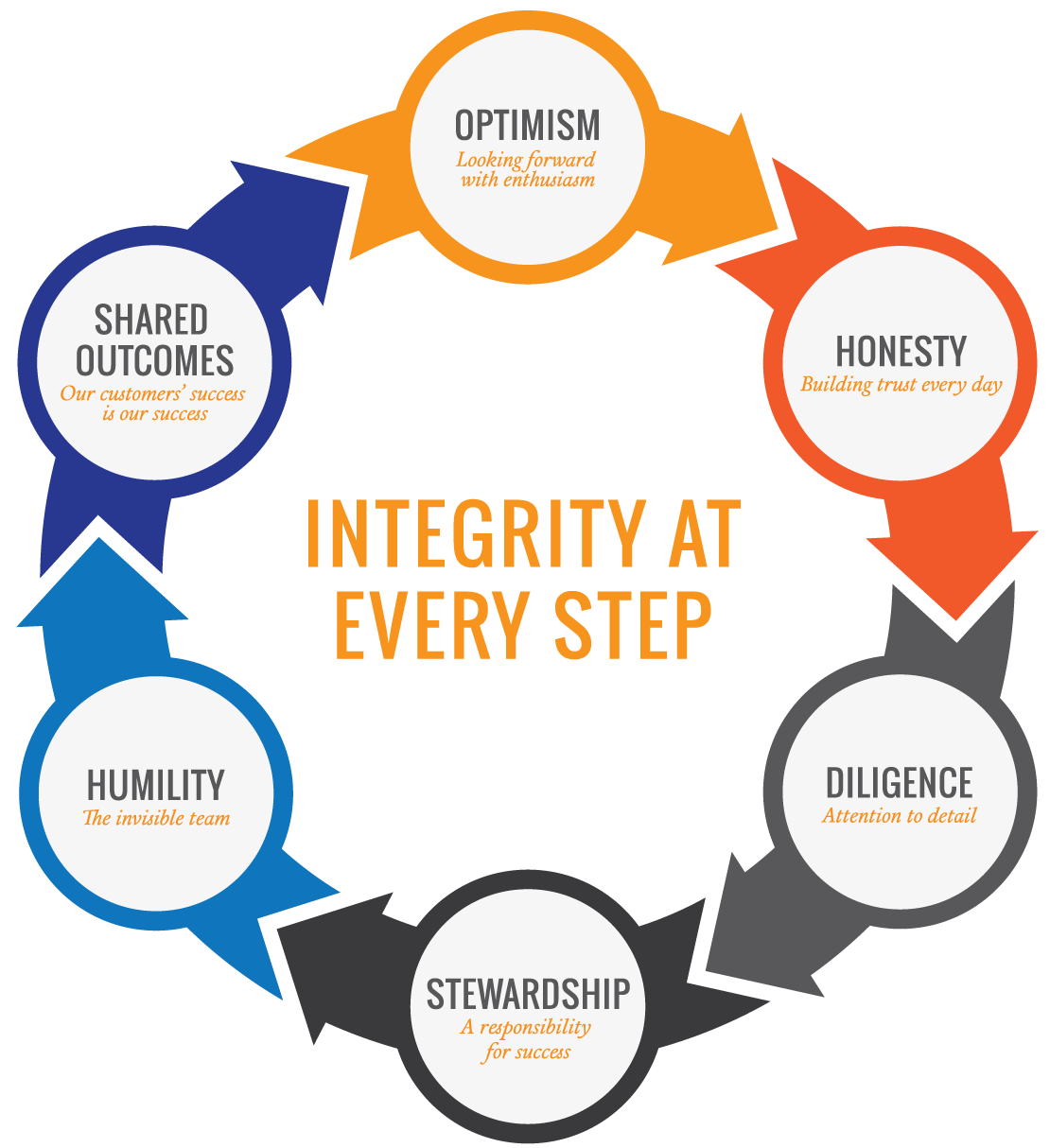 <!//two-col-outer-->
CORE BELIEF:
INTEGRITY AT EVERY STEP
To help guide our path, we adhere to one core belief, supported by six unwavering principles. Our core belief and supporting principles are not easy to follow. They are uncommon among today's global workforce, for good reason. They require focus, constant attention and a daily selflessness from every Ortec team member.
Treat others the way you want to be treated. This includes fellow associates, customers, vendors, partners and community members. As we see it, this one simple phrase encompasses all of our philosophies on how business should be conducted. After all, how we treat other people is what life is all about. We believe strongly that if we do the right thing, we will be successful.
<!//two-col-outer-->
THESE ARE OUR GUIDING PRINCIPLES
OPTIMISM
Looking forward with enthusiasm
<!//two-col-outer-->
At Ortec, we expect good things to happen. When challenges occur, whether they are with equipment, formulations, or even each other, we choose to contribute to a solution rather than criticize. We tackle them together with optimistic fervor and a "can-do" attitude. If challenges continue to occur, we will continue to overcome them. Resilience is a key contributor to our growing business.
<!//two-col-outer-->
Every day, our customers call on our help and place the success of their businesses in our hands. We owe it to them to return their faith with complete honesty. In short, we do what we say we'll do, when we say we're going to do it. When we do make a mistake, we admit it, make it right, and hope to learn from the experience. While being truthful can be hard, it's the only way to earn the trust of our customers and colleagues.
<!//two-col-outer-->
HONESTY
Building trust every day
<!//two-col-outer-->
DILIGENCE
Attention to detail
<!//two-col-outer-->
Our job is to produce. Get things done. Make success happen. Diligence is working harder and smarter than our competitors, with an attention to detail and steadfast application that is supported by competence. When a coworker needs help, we help. Every time. Teamwork is paramount. And when a customer needs us, we're ready to find a solution.
<!//two-col-outer-->
We never take our customers' trust for granted. Instead, we repay it by becoming stewards of our customers' business interests. It is our responsibility to make their lives easier and more successful than ever before. What's more, our customers rely on us to treat their proprietary technology with the highest levels of security and confidentiality. After all, their products are our products. It is our job to protect their reputation and secure their success through our commitment to service.
<!//two-col-outer-->
STEWARDSHIP
A responsibility for success
<!//two-col-outer-->
HUMILITY
The invisible team
<!//two-col-outer-->
While you might not find an Ortec-labeled product sitting on the hardware store shelf, in the electronics magazine, or in the doctor's hand, we are integral to the process nonetheless. We do some heavy lifting for our customers but aren't often in the limelight. That's OK – we are here to serve our customers. We are the invisible team supporting them every step of the way.
<!//two-col-outer-->
We share our customers' victories, and we share their pains. We are truly an extension of their research and manufacturing groups. We're in this together; helping our customers reach their market goals. This is how we create value. And when we are fairly compensated for our value, we can then create opportunities for our associates and better our local communities.
<!//two-col-outer-->
SHARED OUTCOMES
Our customers' success is our success
<!//two-col-outer-->
HOW CAN ORTEC HELP YOU?
Are you considering outsourcing your chemical manufacturing? Want to free up your assets to focus on other projects? Need a partner who has the quality systems and regulatory knowledge to meet your demands? Someone who can hit specs, improve efficiencies, and get you quickly to market without going over budget?